Forever Young Information
Canada's Adult Lifestyle Publication
By Latoya Washington Housing, Green homes, Lifestyle, Pastimes Slideshow June 06, 2013 - 0 comments
Many Canadians presume we are blessed with unlimited water but that's the wrong attitude to take; the marketplace offers advice
***
Canada, with its numerous lakes and huge land mass, doesn't really have to worry about conserving water, right? Just leave that hose on overnight while watering that parched lawn and pay the bill when it arrives in the mail, that's the attitude of many.
But they are wrong. Eighty-four percent of us live in a narrow southern strip of land and there's a growing thirst for water in that urban area. Pollution is degrading our water supply, Environment Canada warns, and overuse upsets aquatic ecosystems, while our municipalities are faced with ever-increasing costs to treat our water and deal with wastewater.
Recent inquiries into the marketplace brought mixed advice for gardeners and landscapers hoping to find ways to minimize water waste. One veteran landscaper encountered at the Royal Botanical Gardens Home Show held in Burlington in May identified plant choice as one way to conserve water, while an Oakville-based entrepreneur at the same show touted a containing-garden watering system that runs on solar power.
Ron Charron, co-owner with his wife Karen of the business Yesterday's Garden based in Hanover, Ont., points out that the choice of plants determines how much water has to be used to keep them green.
"The trend is to landscaping that involves less maintenance, more specimen planting. There is zero-scape landscaping that requires very little watering, and there are whole groups of plants that are suitable for that."
The extreme, of course, is no-lawn landscaping, which cuts back on water usage since lawns require a lot of water. "We sell trees, shrubs and perennials so we often build a landscape with no grass," says Charron. "A lot of landscapers are very concerned with grass and turf and so on; well we are the opposite."
Charron's firm sells specialty shrubs and garden trees – "You don't need as many of them, you just need a few to make a point. They are smaller, more controlled and they have positive attributes."
The father of this movement is Englishman Adrian Bloom, he says. "The trend used to be toward the English-style cottage gardens. Now Adrian Bloom is leading the way to establishing conifer gardens with no perennials or annuals … Perennials are important but not as prevailing as they were 10 years ago."
But if you go for annuals, in containers or hanging baskets, a new product imported from Britain keeps those plants watered regularly using solar power – even while the homeowner is away on vacation.
Wade Pitman is an Oakville-based retiree who was browsing online for watering information and came across the Irrigatia Solar Automatic Watering System. He decided to distribute the system last year. Pitman described the $100 product he had on display at the RBG show in May.
"It is very environmentally friendly in that it takes rainwater that has been collected, and then pumps it out using solar energy to the plants, so it is not connected to your house in any way."
The product can pump out 7.5 litres of water every three hours, enough for five large hanging baskets or 12 20-litre pots, with three settings depending on how much water is required, Pitman says. The system drips water into the roots, and fertilizer and plant food can be added into the barrel.
The business is web-based; visit irrigatia.ca. For information on Yesterday's Garden, visit yesterdaysgarden.ca.
© Metroland 2012 | Metroland Media Group Ltd. | Corporate Privacy Policy
06/06/2013 3:51 PM 1 of 1

Gardens West Magazine

Gardens Central Magazine

May issue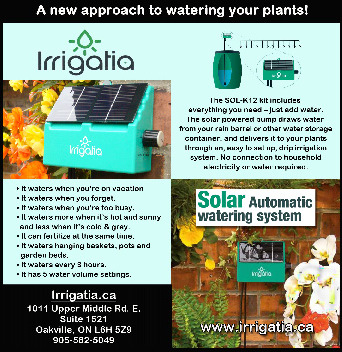 Gardens West

Gardens Central Magazine

June issue